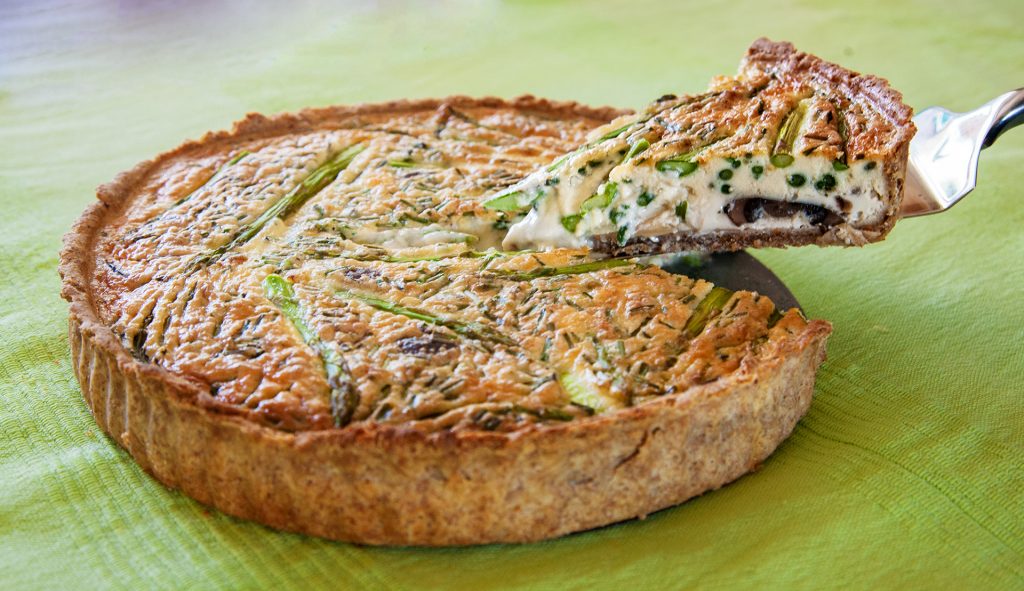 Yesterday was a good day. I got lots of cooking done from making bread to soup for lunch which I told you about yesterday and last night following inspiration from Malibu Kitchen's recipe for a similar tart I decided to make a tart from ingredients in the fridge that were starting to get towards the end of their shelf life. There are quite a few ingredients in my tart which could make it a bit on the expensive side if you were to buy all the ingredients fresh. I think the point of this tart is to start with a basic pastry base a few eggs some cream and milk and then look at what you have in the fridge or in your veg basket and design your own tart from there.

I pretty much followed Malibu Kitchen's recipe because I had most of what she has in her recipe in the fridge. I just had less of it. I did however have the remains of some wonderful samphire that I had bought form Julies Hut, my local crab and fresh fish shack here in Selsey. Can I just say at this point I absolutely love the salty taste of fresh samphire!
I decided I was not going to buy in puff pastry that the recipe originally required but make my own wholemeal pastry. Pastry is not that healthy at the best of times so making it wholemeal at least makes me feel better and I think it has a better taste to it also. I also made my tart slightly smaller so that it meant I would need one less egg and considerably less cream. I have not in the end priced this recipe up as I feel it is irrelevant as like you it is made up of odds and ends that have all been used in previous recipes. I guess though as a rough estimate for a tart that would feed 6 people the basic recipe works out at around £0.82 then you add your fillings.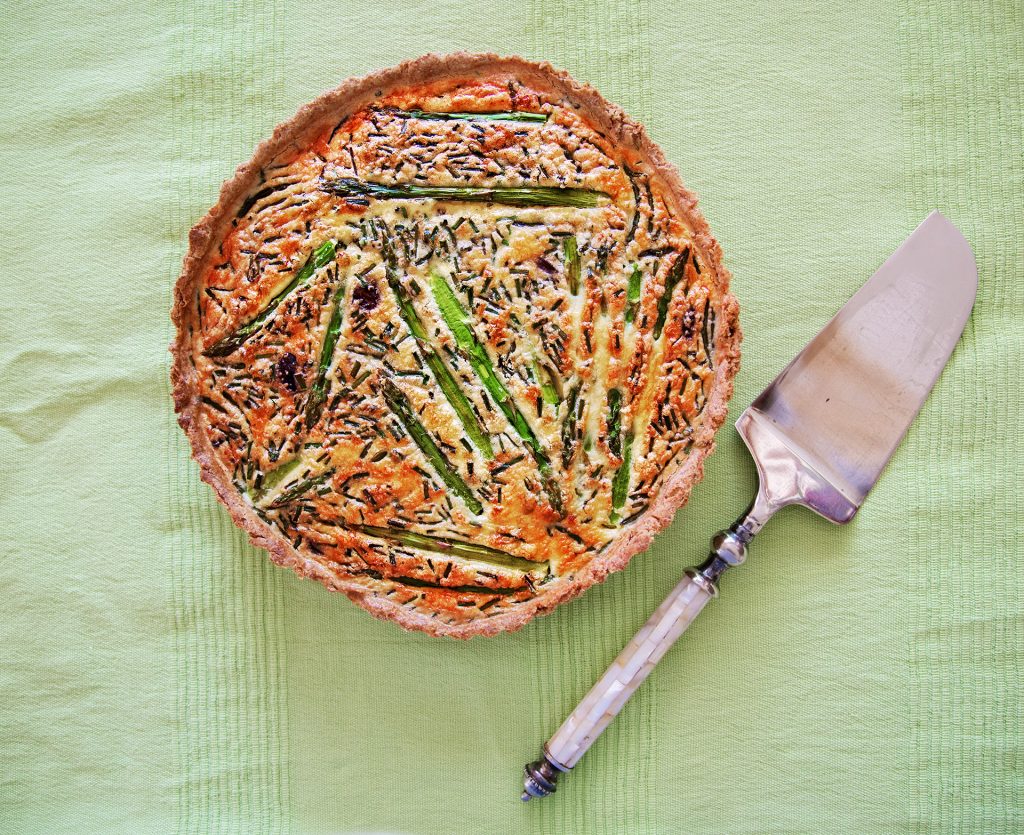 ASPARAGUS, SAMPHIRE, MUSHROOM & ROASTED GARLIC TART
Author:
The Knobbly Plate
Prep time:
Cook time:
Total time:
Ingredients
For the Pastry
150g Wholemeal Flour
150g Plain Flour
125g Butter
1 Egg
For the Tart
6 Eggs
100ml Double Cream
50ml Milk
8 Roasted Garlic Cloves
6 Asparagus Spears
Handful of Chestnut Mushrooms
Handful of Samphire
Bunch Snipped Chives
25g Parmesan Cheese
Instructions
To make the pastry
Rub the butter into the mixed flours until you reach that breadcrumb stage.
Add the beaten egg to bind it together.
Place in the fridge for 15 mins then roll out into your tart tin and chill for a further hour.
Place a piece of greaseproof paper in the tart tin and fill with baking beans. Blind bake foe 12 mins at gas mark 5. Take the beans out and bake for a further 5 mins until the base is crisp and golden.
To make the roasted garlic.
Place a whole garlic bulb in a oven proof container.
Drizzle with olive oil and roast in the oven at gas mark 4 for 1 hour.
To assemble the tart
Whisk the eggs with the cream and milk.
Add the cheese and snipped chives.
Burst the cooled garlic cloves and spread over the bottom of the tart.
Add the chopped mushrooms, samphire and asparagus spears.
Pour over the egg mixture and place in a pre heated oven at gas mark 6 for 40 mins until golden and set.
Allow the tart to chill to room temperature before serving.