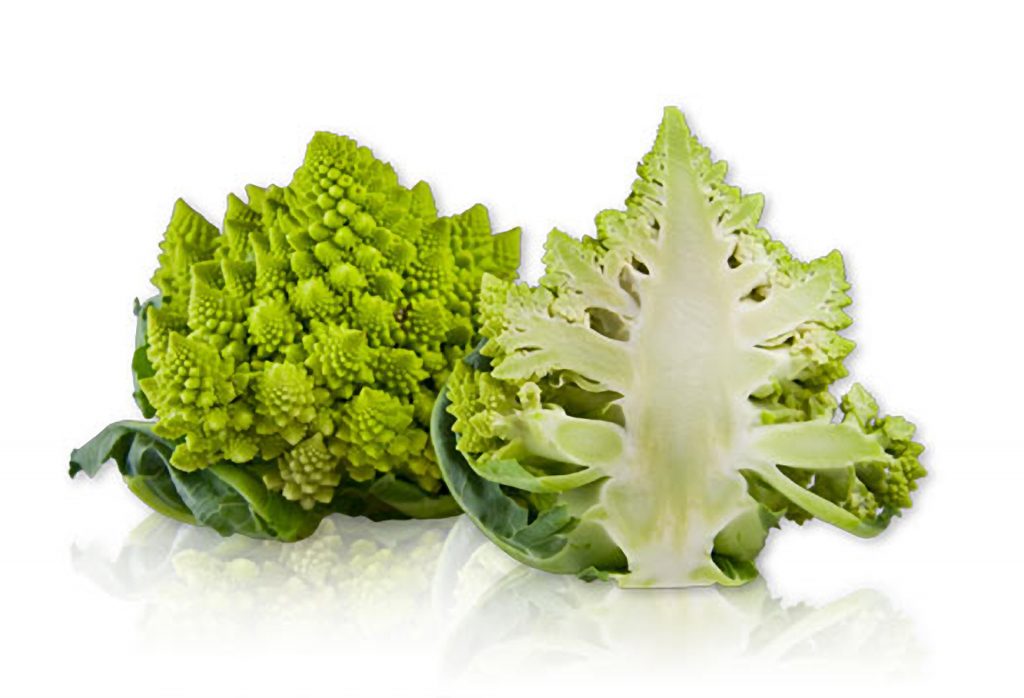 I love the geometric shapes in romanesco, isn't nature wonderful at patterns. This is just coming into it's early season and can be used as an alternative to regular cauliflower as its part of the same family of vegetables.
Romanesco (Brassica oleracea) is part of the cruciferous family. It is often called broccoflower but more closely resembles cauliflower.
A bright yellow-green, Romanesco is incredibly unique and strangely beautiful. The outer appearance is so distinctive that it has led some to joke that it was seeded here by an alien race (that might also explain the egg-laying mammalian platypus).
The Romanesco is a natural cross between cauliflower and broccoli, the two better-known produce items. It has a flavor comparable to cauliflower with a slightly "nutty" undertone. Scientists and nutritionists consider it one of the most easily digestible vegetables available.
Originally cultivated in Italy, this edible flower is tender, making it a perfect addition to recipes in place of broccoli or cauliflower. The slightly different flavor and interesting look can spruce up tired recipes. Cook times should be shortened to avoid overcooking.
Vitamins and minerals are abundant in Romanesco and calories are low, making it a nutrient-dense food that is ideal for the vegan diet.
You'll find vitamin C, A, and K as well as folate, dietary fiber (though slightly less than broccoli), iron, manganese, carotene, protein, zinc, and omega-3 fatty acids in this pretty vegetable – along with so much more.