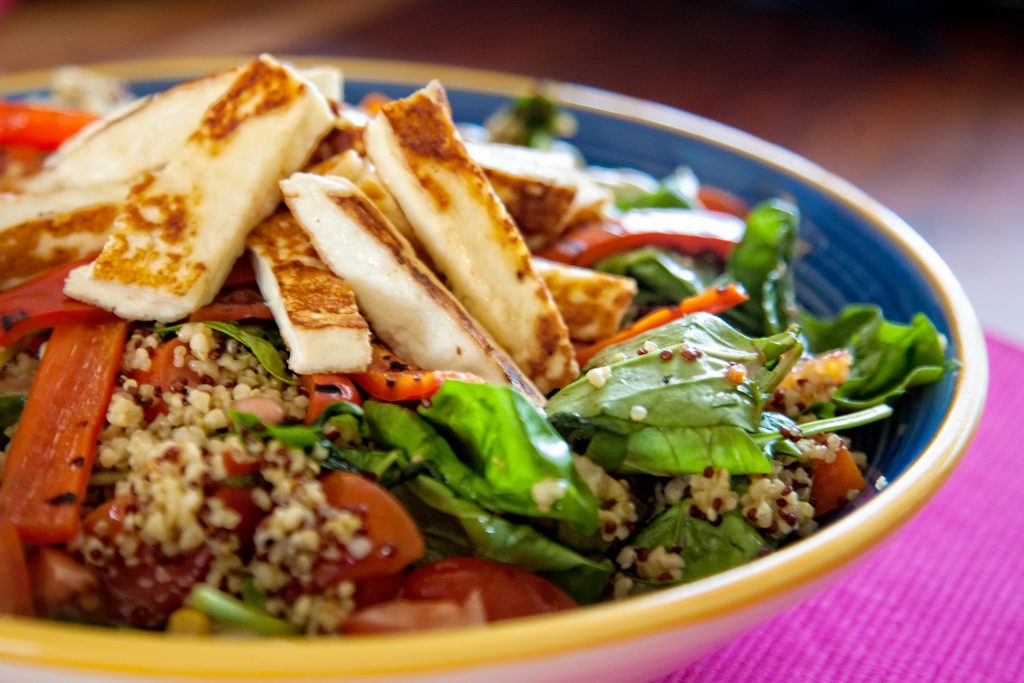 Iv'e said this before but there is no harm in saying it again. "I love creating salads" It's such a summery pastime for me and I shall be sad when the growing season for salads has moved on to more in the way of root vegetables. For now however I shall just keep on indulging myself. This chargrilled summer vegetable & halloumi salad I feel is one of my better creations and very substantial to boot.
I haven't really been using alot of halloumi in my cooking until recently. I don't know why that is because I have grown to absolutely love this "squeeky" cheese. For those of you that love your meat from a bbq this makes a brilliant substitute.  Halloumi cheese originated in Cyprus, and has been traditionally prepared with cow, goat or sheep milk. This cheese is very versatile and has the unusual feature of not melting when heated. For this reason, it can be grilled or fried, in addition to being eaten fresh with fruits or vegetables, or grated on pasta. I have used it in so many dishes from salads to kebabs to part of a stack for vegetarian burgers.

Once again when constructing this salad I have paid particular attention to The Knobbly Plates ethos of affordable healthy vegetarian dishes. So when breaking the cost of this salad down it came to a total of £3.80 for 4 people which works out at an amazing price of just 95p a portion. We had it for dinner and it was quite substantial with plenty left over for lunch for the two of us the very next day.
There were a few nuts and seeds included in the salad to help with proteins but also to add the extra textures to the dish as well. I think when you make this salad you will agree that it made for a very satisfying meal indeed.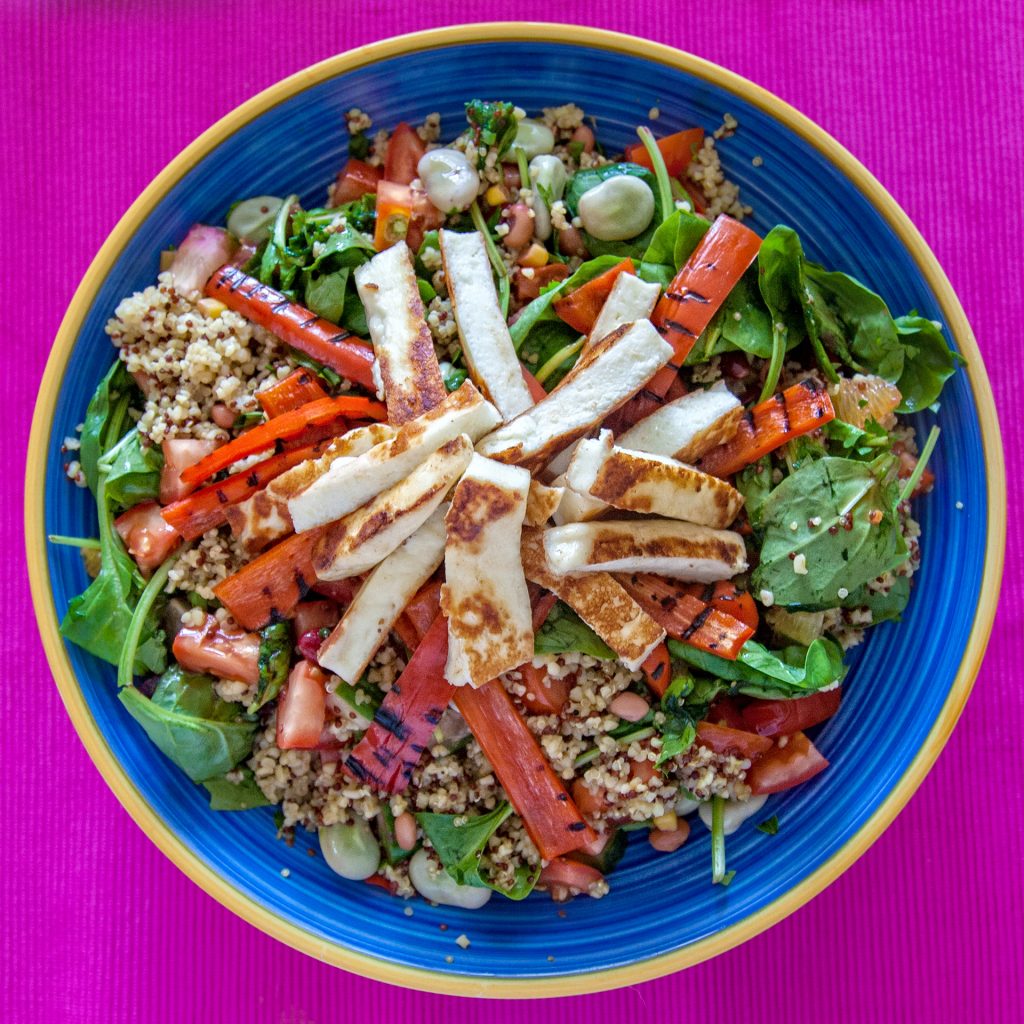 CHARGRILLED SUMMER VEGETABLE & HALLOUMI SALAD
Author:
The Knobbly Plate
Prep time:
Cook time:
Total time:
Ingredients
2 Handfuls of Baby Spinach
50g Cooked Cous Cous
100g Halloumi Sliced Lengthways
2 Tomatoes Chopped
½ Cucumber Chopped
50g Pumpkin Seeds
50g Pistachio Nuts
50g Walnut pieces
1 Orange Segmented
1 Red Pepper Sliced Thickly
1 Courgette Sliced
Instructions
On a chargrill cook the peppers, courgette and halloumi
Meanwhile in a salad bowl mix together all the other ingredients and season with salt and pepper.
top with the chargrilled vegetables and halloumi and dress with your favourite dressing.