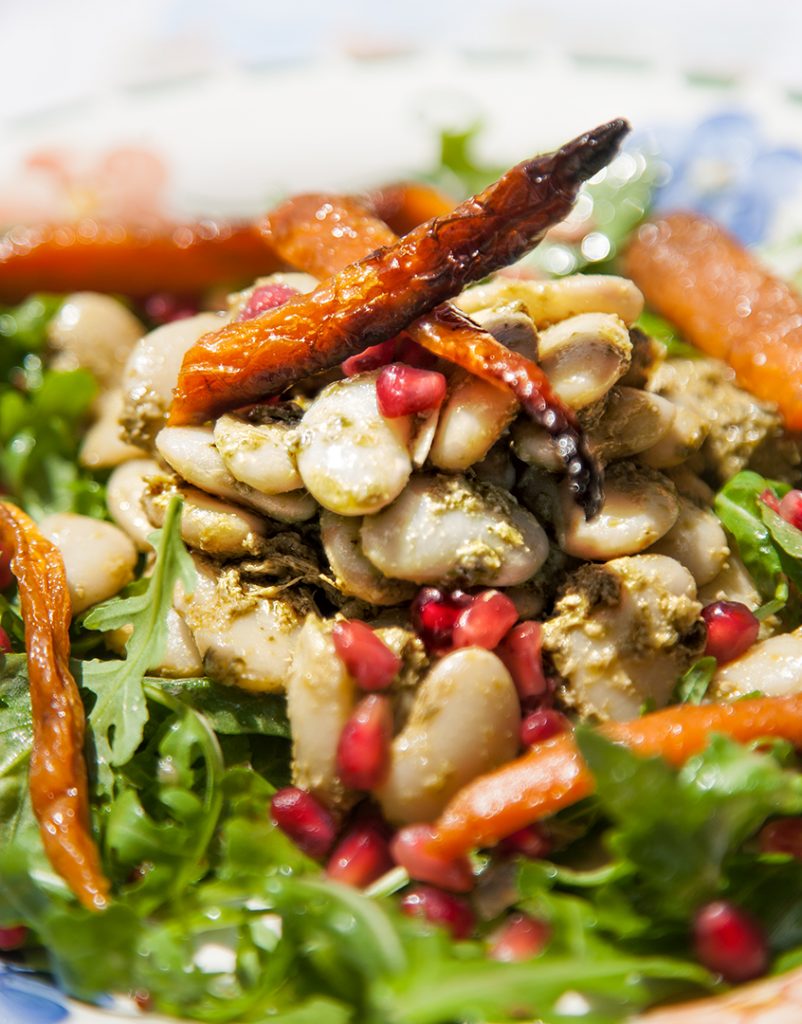 First of all, many thanks to Deliciously Ella for the inspiration for this recipe. She has an amazing food blog. I liked the look of her pesto butter bean salad right from the start but I also knew that with my tight family budget it was probably just a little out of the reach of my pocket so I set about making a few changes that would mean I would get to try this dish.
I think one of the main elements of her dish, the pesto was probably just too expensive for me to make fresh. Pine nuts and Parmesan cheese are quite expensive items to purchase. I know the cheese goes a long way but when you only have so much to spend in one week then you have to stick to that. I decided therefore that the first change to her recipe should be that I buy a jar of pesto. Now you can buy very cheap pesto which has little extra virgin olive oil in it or spend a little bit more on a jar that has better ingredients in it. Either way it will still be cheaper than making your own fresh pesto, though we would all love to have the fresh variety.
My second change to her recipe was to buy a packet of dried butter beans rather than tins of butter beans. I know they are a faff to prepare having to soak them overnight and boil them for what seems like forever but you rally do get so much more for your money. One 500g packet of butter beans will produce at least 10 portions for the same price as a single tin of ready made beans. I also bought a snack pack of pomegranate seeds for half the price of a single whole fruit and found it was enough to make the same dish again with or to use in another dish.
Finally I still had some organic carrots left over from my veg box scheme that I use from Riverford Organics so I decided to roast them and add them to the dish for two reasons really. First I felt they would add a sweetness to the dish that would contrast well with the other Mediterranean flavours and also if I'm honest I'm a hungry eater so I wanted more to eat for my evening meal.
All in all I think with these simple changes I have not compromised on the flavours of the dish and I reckon I have cut the cost of making the dish by at least half.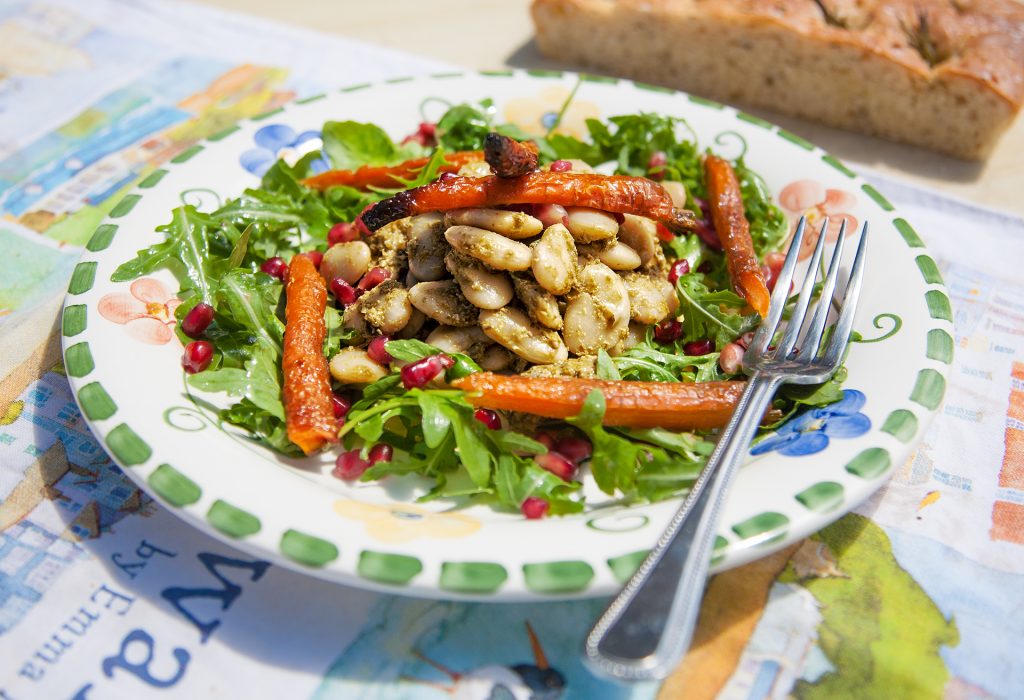 AFFORDABLE PESTO BUTTERBEAN SALAD
Author:
The Knobbly Plate
Prep time:
Cook time:
Total time:
Ingredients
1 Jar of Green Pesto
100g Dried Butter Beans
½ Bag of Rocket
1 Lemon
Drizzle of Extra Virgin Olive Oil
2 tsp Pomegranate Seeds
2 tsp Pumpkin Seeds
1 Lemon
6 small Carrots
Instructions
Soak the butter beans overnight and then cook according to packet instructions. Usually Boil for 10 mins and then Simmer for 30mins.
Toss the butter beans in half the jar of pesto and set aside for 30 mins to let the beans take on the flavour of the pesto.
Meanwhile quarter the carrots length ways and drizzle over some olive oil and roast in a hot oven until slightly charred.
Mix up all the other salad ingredients and arrange on a plate.
Top with the butter bean mixture and scatter the roasted carrots on top.
Squeeze a lemon over the salad to dress and season with salt and pepper.