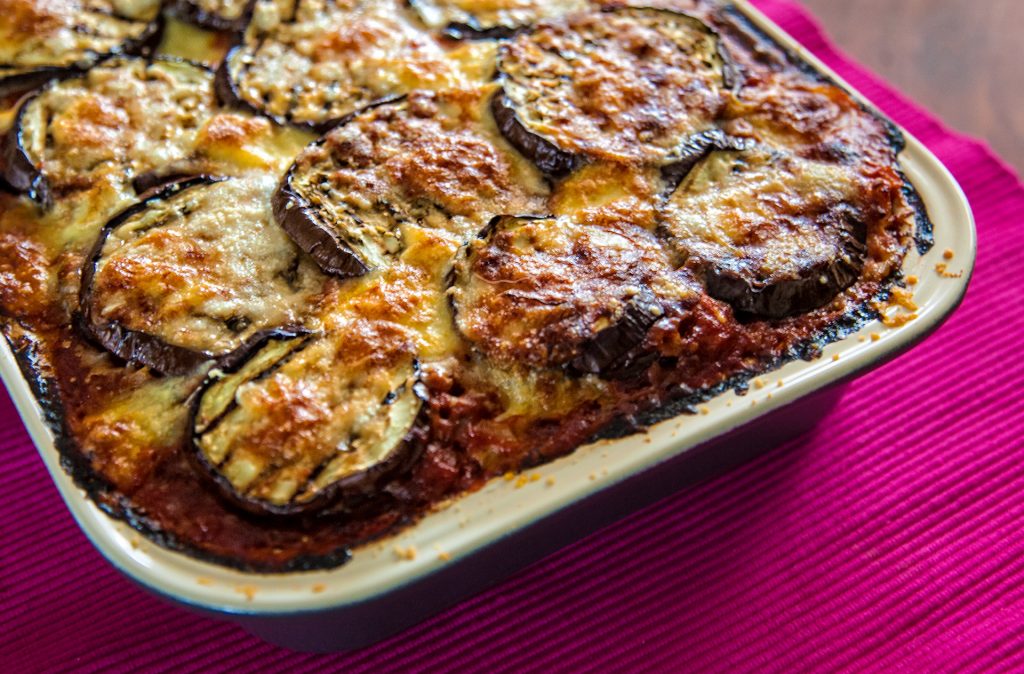 Well what happend to summer? The jet stream seems to have moved and it's now positively autumnal at times. So what better way to warm up than with my baked rigatoni with aubergine and mozzarella.
Iv'e been wondering where the sun has gone for a few weeks now as it is needed to ripen all the wonderful blackberries, blueberries and raspberries that grow wild around here and I am looking forward to foraging a few of them to make this seasons blackberry vodka. Then I have plans for some fresh raspberry jam which is just one of my favorite flavor's of all time. It always reminds me of my childhood in Scotland and eating as many raspberries as I put in the pot from days out foraging. They were so juicy and tart, delicious.
BAKED RIGATONI with AUBERGINE & MOZZARELLA
Author:
The Knobbly Plate
Prep time:
Cook time:
Total time:
Ingredients
1¼kg small vine or small plum tomato
a sprinkling of golden caster sugar
4 tbsp extra-virgin olive oil, plus extra for drizzling
1 large aubergine(about 450g/1lb)
500g rigatoni
2 garlic cloves, crushed
85g black olive, stoned and chopped
2 good handfuls of basil leaves, plus extra for serving
450g buffalo mozzarella
50g parmesan, freshly grated, plus extra for serving
Instructions
Preheat the oven to fan 140C/conventional 160C/gas 3. Halve the tomatoes through their equator, rather than their core. Stand them cut-side up on a shallow baking tray (I use a nonstick Swiss roll tin). Scatter a little salt, pepper and sugar over the cut surfaces and drizzle with extra virgin olive oil. Roast for 45 minutes.
Meanwhile, slice the aubergine into rounds, brush both sides with oil and spread out in one layer on another tray. After the tomatoes have been roasting for 45 minutes, put the aubergines in with them and roast for another 45 minutes.
Towards the end of the time, cook the pasta in plenty of gently boiling well-salted water until nearly al dente – it should be undercooked because it finishes off in the oven. Drain well and tip into a large bowl. Have ready 4 tbsp of extra virgin olive oil mixed with the crushed garlic and chopped olives. Toss the oil mixture through the pasta and turn half of it into a 2-21⁄2 litre ovenproof dish.
Remove the tomatoes and aubergines from the oven. (You can prepare them up to 24 hours ahead.)
Turn up the oven to fan 180C/conventional 200C/gas 6. Scatter half the tomatoes and their juices over the pasta in the dish. Roughly tear the basil leaves and scatter on top. Drain the mozzarella, pat dry with kitchen paper, then slice very thinly. Lay two-thirds of the slices over the tomatoes. Grind black pepper over, and scatter over the aubergine. Add the rest of the pasta, top with the remaining tomatoes and mozzarella and then the parmesan. (Can be made up to here 3-4 hours in advance). Bake for 20-25 minutes, until piping hot and the top is extra crusty. Serve hot with a sprinkle of basil and extra parmesan.