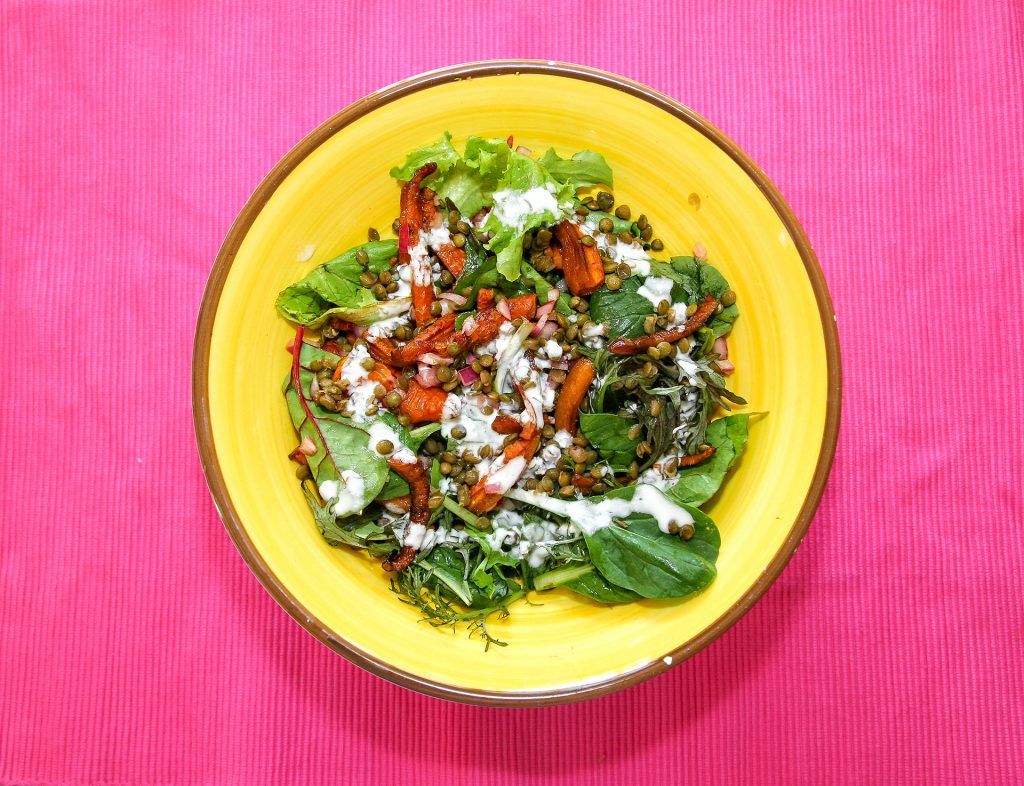 Today I start a new article. I have been buying cookbooks for so long now that I have lost count of just how many books I have. Some books have been brilliant. Some okay and some quite frankly awful. My plan over the course of the month is to bring you recipes from one particular book then review the book as a whole at the end of each month. I will look at how easy it is to recreate the recipes and more importantly sticking with the theme of affordability with this blog, just how expensive my sample recipes cost me to make.

I am starting off this one with a roasted carrot and lentil salad with a goats cheese dressing. First of all what drew me to the recipe was the fact that there are only a few ingredients in the dish as a whole. Always a bonus here at Knobbly Plate. Next I looked at which meal it would fit into nicely and it seemed to me to be the perfect lunch dish. I also looked at how adaptable to the ingredients I had in the house at the time as to whether or not it would be possible to recreate the dish on a whim.
So what did I change about the recipe? first of all I did not have honey for the carrots so I made do without it. I did however drizzle some balsamic vinegar over them. Secondly instead of flatbread I had just made a loaf of honey and seed bread so I ripped up some of that. Other than those two things I pretty much followed the instructions.
How did it taste you ask? Well rather nice actually. I love lentils at the best of times and coupled with fresh organic carrots it made a wonderfully filling salad. So here is the salad with a big thank you toRiverford Organics  not just for the veg but for the recipe from their book. Everyday & Sunday.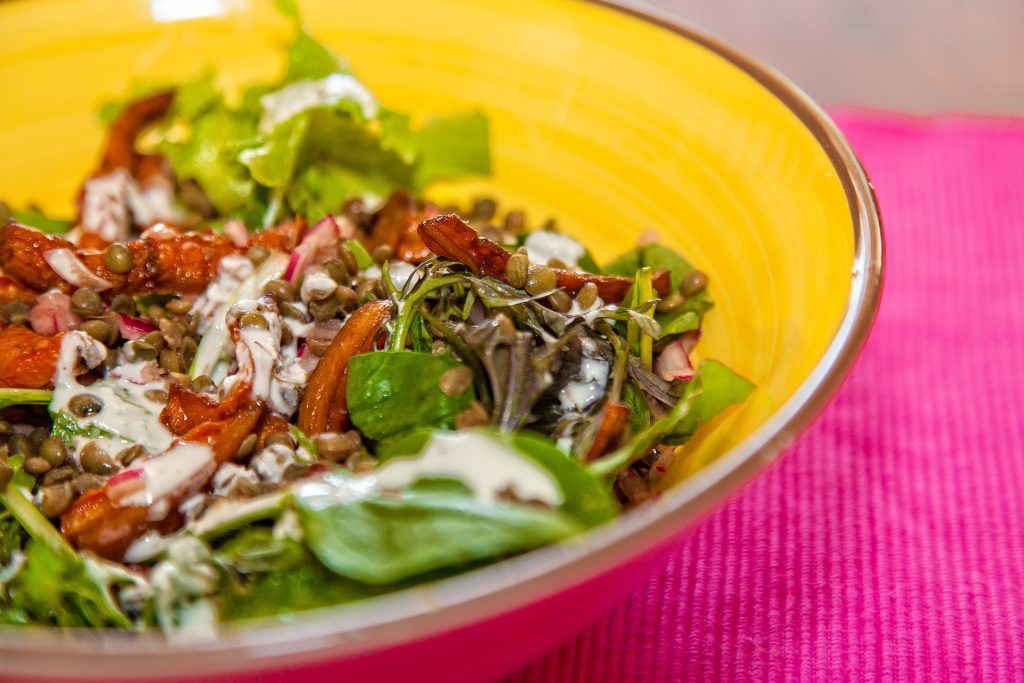 ROASTED CARROT & LENTIL SALAD WITH GOATS CHEESE DRESSING
Author:
The Knobbly Plate
Prep time:
Cook time:
Total time:
Ingredients
½ Red Onion
1 tbs Red Wine Vinegar
2 tsp Brown Sugar
1 Bunch of New Season Carrots
2 tbs Olive Oil
1 tsp Honey
3 tbs Cooked Puy Lentils
1 Garlic Clove Crushed
2 Pitta Breads
Bunch Watercress
100g Goats Cheese
50ml Milk
½ Lemon Squeezed
Instructions
For the Salad
Soak the red onion in the red wine vinegar and toss the carrots in olive oil and honey. Roast the carrots in a hot oven until soft.
Toss the carrots with the cooked lentils, chopped red onion and crushed garlic.
Rip the bread into small peices and toast in the oven for 5 mins..
In a large bowl toss all the ingredients together along with the dressing and serve.
For the Goats Cheese Dressing
Gently heat the cheese with the milk until combined. Season with salt and pepper.